Shrinkme.io Review: is a URLs shortener tool which converts long URL to a small one Shrinkme.io gives the chance to earn money from every visitors to your links, Everyone can join Now and start an online business.
Scam or Legit
Publisher Rates
Shrinkme.io offers high publisher rates and consider the highest among the competitors the highest rate is 22$/1000 visits for visitors coming from Greenland while the minimum rate is 3.50$/1000 visits for All Other Countries for users browsing the ad page via Desktop but 3$/1000 visits to mobile/tablets users.
The visits coming from some countries have fewer rates than a worldwide deal like Mexico, Brazil, Russia, Indonesia, Venezuela, Iraq, and Philipines so you have to check the publisher rates page cautiously.
Also, take in your consideration the publisher rates are dynamic and shrinkme.io may change it daily.
Withdraw Methods & Minimum Payout
Shrinkme.io provides many methods to withdraw your money with average Minimum Withdrawal Amount like;
| | |
| --- | --- |
| PayPal | $5.00 |
| Bank Transfer | $20.00 |
| Bitcoin (0.0005 BTC Fee) | $20.00 |
| Litecoin (0.03 LTC Fee) | $20.00 |
| Ripple (5% Fee) | $15.00 |
| Skrill (6% fees) | $20.00 |
| Payoneer (8% Fee) | $100.00 |
| Paytm | $5.00 |
| PhonePe | $5.00 |
| UPI | $5.00 |
Sponsor (Advertiser): CPC, CPM.
Type of ads: Banner.
Sign Up Bonus: $1.
Shrinkme.io count 1 IP/day (Visitors must be unique within 24 hours).
Must view your page for at least 10 seconds.
Payout Frequency: Daily (instant).
Minimum Payout: 5$.
Payment Methods: PayPal, Bitcoin, Payoneer, Skrill, Ripple, Litecoin, Payeer, Paytm, PhonePe, UPI, and Bank Transfer.
Highest Rate: (Greenland) 22$/1000 Visits.
Lowest Rate: (Philippines) 1.5$/1000 Visits.
Referral system: (Active) Refer friends and receive 20% of their earnings for life!
Take care don't do any of these prohibited things while working with this URL shortener to keep your account alive.
Shortening Copyrighted Contents is not allowed, Users Who did so will be banned Immediately without any Payment.
Self Clicking with VPN, Proxy or viewing your own links again & again is strictly not allowed if we found we will ban your account immediately.
Adult content, Torrent, PTC, and Faucet are strictly NOT ALLOWED, if any user shortens any illegal content links with us then we will Delete their Account immediately without payment. We also have enough Algorithms to check fake traffic, We will not pay for Fake Traffic.
Join Now and start collecting money "click here to Sign Up".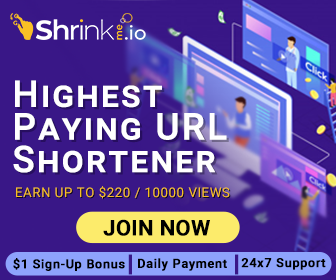 Type your personal information Username, Email, Password, Retype your Password, Solve the captcha, Approve terms, and finally press on Register button or register using your Google account.
Payment Proof
They have a long list of the payment process you can have a look through this link.
Shrinkme.io Support
The support team is always ready to solve your problem and help you 7/24hs through email or online chat.